Canker sores (mouth ulcers) are unbearably painful – so on this page I will show you how to quickly get rid of them at home.
Having suffered from occasional canker sores in the past, I fully understand just how difficult it becomes to brush your teeth or eat certain foods.
Just moving or touching your mouth for any reason can be agony.
"What Is a Canker Sore ?"
A canker sore is a round or oval raw spot that can be anywhere on soft tissue in your mouth (gums, tongue, cheeks or inside the lips).
Although canker sores are often fairly small they can be as large as a small coin.
They usually have a creamy whitish appearance and are incredibly sensitive and painful to any movement or touch.
"How Do People Get Canker Sores ?"
Canker sores can be caused by an abrasion in the mouth where soft tissue is broken.
This could be where your toothbrush roughly snags a gum or where you might have accidentally bitten your tongue or cheek.
Canker sores can also appear for no particular reason – although there are some studies that show stress can be a significant factor behind an unexplained outbreak.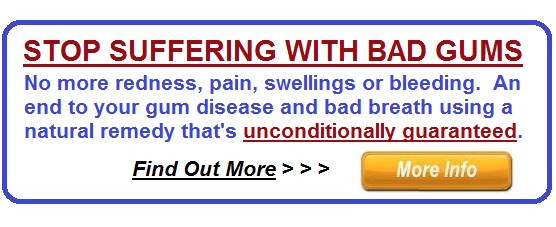 "Who Is Most Likely to Get Canker Sores ?"
Canker sores can run in the family. Oftentimes, an outbreak of canker sores can spread throughout a family group.
The National Institute of Dental and Craniofacial Research reports that canker sores are found in 20% of the population. Women are slightly more at risk than men from getting reoccurring canker sores.
"Is there Anything that Stops canker Sores ?"
A Norwegian dental surgeon (Dr. Pal Barkoli) ran some extensive canker sore tests on two groups of people. He discovered that there was a 70% improvement in the group using toothpaste that didn't contain sodium lauryl sulfate (SLS) over the other group that used regular toothpaste containing sodium lauryl sulfate (SLS).
SLS is used in most regular toothpastes we buy from pharmacies and supermarkets. It's the chemical in your toothpaste that makes the mouthful of foam. SLS is a powerful degreaser and is used in car-wash detergents as well as on heavy industrial machinery as a degreaser.
Scientists routinely use SLS as a skin irritant in laboratory tests.
As you might imagine – SLS (even in a low dose) – is not a chemical you would willingly spread over your teeth and gums when the tender parts of your mouth are already raw and sensitive with canker sores.
"So What WILL Cure Canker Sores ?"
Many years ago – I used a product (no longer available) which required you to paint a layer of liquid over each canker sore. It was extremely painful and you had to hold your mouth open until the coating was dry. Also – you had to do this several times a day.
Although it was clumsy and time consuming, it worked reasonably well because it created a barrier from the saliva in the mouth which contains harmful bacteria that prevents canker sores from healing quickly.
Nowadays – if I get canker sores – I can easily eliminate them by using Dental Pro 7.
"So How Does Dental Pro 7 Cure Canker Sores ?"
Dental Pro 7 is a natural product made entirely from a carefully formulated blend of pure essential oils.
Unlike your regular toothpaste, Dental Pro 7 contains no chemicals, no drugs and no man-made or artificial additives.
Dental Pro 7 is a powerful anti-bacterial and anti-fungal agent with a successful track-record over many years in solving a whole range of serious gum problems – including canker sores.
By killing the harmful bacteria in your mouth – Dental Pro 7 turns your mouth into a bacteria-free zone that allows your body's natural forces to repair the sore areas quickly.
"What's the Best Way to Use Dental Pro 7 ?"
It's very simple to use Dental Pro 7 to cure canker sores, bad breath and gum disease.
Using Dental Pro 7 as a Toothpaste Replacement
As already mentioned – unlike your usual toothpaste – Dental Pro 7 contains NO sodium lauryl sulfate and is kind to your teeth and gums.
By brushing twice a day with 2 drops of Dental Pro 7 – not only will you have very clean smooth teeth – you will also be immediately destroying the harmful oral bacteria that causes bad breath and gum disease and prevents cuts, abrasions and canker sores from healing.
Because it's an oil – Dental Pro 7 works its way into the nooks and crannies of your mouth and it's hard to rinse away. Therefore it goes on working for an extended period of time.
Using Dental Pro 7 As a Mouthwash
Just two drops of Dental Pro 7 in a little water makes an excellent anti-bacterial mouthwash.
You can repeat this as many times as required during the day to keep your mouth bacteria-free and to speed up the healing process.
Using Dental Pro 7 As a Breath Freshener
Keeping a bottle of Dental Pro 7 in your pocket or purse is a great way to continue your treatment while out and about.
You will be surprised at how powerful one tiny drop on your tongue will be!
This is also a great way to deal with bad breath problems and for use after eating strong foods such as garlic, coffee, cheese etc.
"Is the Cost of Dental Pro 7 Fair and Reasonable ?"
Dental Pro 7 at first seems quite expensive – but when compared to the cost of dental treatment added to the fact that it replaces all other oral care products – it represents very good value.
Dental Pro 7 also has the following benefits:
Dental Pro 7 comes with a full and unconditional money-back guarantee – so all purchases you make are are fully risk-free.
It replaces your regular toothpaste.
It replaces your mouthwash.
It makes breath-fresheners and mints unnecessary.
It contains no man-made additives.
Dental Pro 7 is 100% pure with all natural ingredients.
It is completely safe for all the family (except children under 12 and pregnant mothers).
The writer of this page has personally used Dental Pro 7 to cure chronic bad breath as well as swollen and bleeding gums caused by gum disease. I can wholeheartedly recommend this product as being fully effective in halting bad breath and gum disease as well as helping heal canker sores and preventing further outbreaks.
Go to the Dental Pro 7 website to read more and see Customer feedback and you can also place your order here > > > Dental Pro 7 Website
I wish you the very best of health.