Swollen Gums – What Causes Them
And What You Can Do To
Quickly Heal Them at Home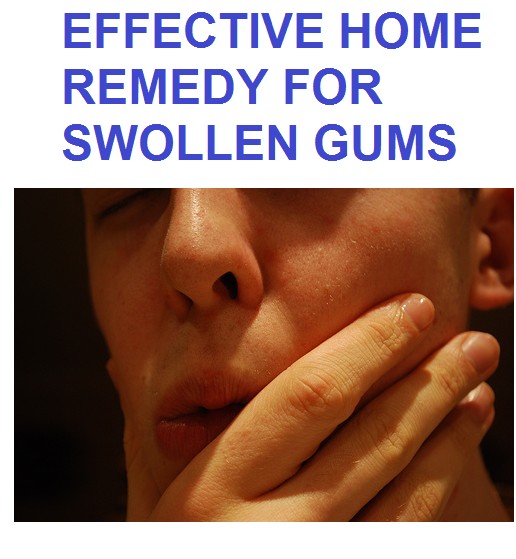 There can be nothing more distressing than getting swollen gums and realising that your teeth and gums may be in some sort of danger.
Swollen gums are always a sign that something is wrong and that you have to take action.
The reality is – your swollen gums might be the result of some recent dental work. Or it could be an early warning signal of something more serious.
If you have been to your dentist in the past week or so, it may be possible that you have had some invasive treatment and that this is the root cause of your gums swelling.

Some Common Causes of Swollen Gums
If your gums are enlarged, swollen or puffy, these are some of the possible causes of your condition:
You might have a local infection or virus in your mouth.
There may be the beginnings of Gimgivitis.
If you wear dentures – maybe they are not fitted correctly.
A reaction or sensitivity to toothpaste or mouthwash.
Some reaction or side-effects to a medication you are taking.
A dietry defect or food imbalance.
A deficiency of Vitamin C (commonly known as "Scurvy").
Pregnancy.
An accumulation of harmful bacteria in your mouth.

The Most Frequent Cause of Swollen Gums
By far the biggest and most obvious cause of swollen gums, is damage due to the build-up of harmful bacteria in your mouth.
Bacteria is present in all human mouths and it is constantly breeding and multiplying.
In spite of what the adverts might say – your regular toothpaste and mouthwash are not helping to control your oral bacteria. In fact – due to their abrasive artificial chemical composition your usual brands of toothpaste and mouthwash usually make the situation far worse than it need be.
Read More About Toothpaste > > > Chemicals In Toothpaste
Read More About MouthWash > > > Mouthwash Can be Harmful

Why It's Essential to Control Your Oral Bacteria
The oral bacteria in your mouth is impossible to remove completely. We all have it in our mouths and it's the cause of a good number of problems.
As you may know – roughly 75% of all adults worldwide, suffer from some degree of gum disease during their lives.
Gum disease is gradual. It usually takes years to build, but the effects can be quite alarming and devastating.
The end of the road – so to speak – is Periodontal Disease which can mean receding gums and lost teeth – but there are many stages of deterioration as the gum disease takes a total grip on your gums.
You might start with sore or swollen gums. Additionally. you may experience bleeding from your gums while brushing or flossing – many people do.
These are the early symptoms of gum disease.
From there – if action is not taken, gingivitis can set in. This is a more severe form of gum disease and comes with a number of unpleasant and uncomfortable symptoms.
If Gingivitis is left untreated it is only a faily short journey to full-blown Periodontal Disease which is the most severe form of the condition.
Periodontal disease can mean badly receded gums and lost teeth and nobody wants to go down that route. And this need never happen, because a simple change of your personal dental routine and daily maintenance will fix the problem.
I will outline what you need to do in a moment.

Why Your Dentist Can't Help With This Problem
It's important to understand that your dentist should be a regular part of maintaining your teeth in a healthy condition.
However, when it comes to gums, your dentist is unable to actually prevent any problem you have from returning again and again.
He or she will likely suggest more flossing and regular use of a fluoride toothpaste as well as a proprietary brand of mouthwash. All advice which is endorsed by the American Dental Association (ADA) and similar bodies worldwide.
Unfortunately this advice and these recommendations will never "cure" your gum disease (and as previously mentioned) will likely aggravate your already tender gums.
When things deteriorate further – your dentist will try deep cleaning techniques and even gum surgery. These treatments are painful and very costly but importantly – they will not get rid of your gum disease.
Unless you deal with the underlying problem of your oral bacteria which causes the majority of these gum problems – your gum disease will simply return and your time and money will have been wasted.

The ONLY Way to Effectively and
Permanently Deal With This Problem
Swollen gums, sore and painful gums, red gums, bleeding gums and receding gums are all symptoms of gum disease.
If you have any of these symptoms, they will not go away by themselves. But left alone untreated – they will almost certainly get worse.
Over the past few years, many people have successfully used a completely natural product called Dental Pro 7 to treat severe gum disease problems.
Dental Pro 7 is made by a small specialist manufacturer who ships this natural remedy all over the world with same-day dispatch.
Dental Pro 7 destroys the bacteria in your mouth and reduces the plaque caused by the bacteria.
Any gum disease you have will be halted and the resulting damage reversed, so long as you follow the directions carefully.
By throwing out your existing toothpaste and mouthwash (just like I did) and replacing it with Dental Pro 7 you will be able to stop, recerse and control your gum disease – no matter how advanced or chronic it has become.
And if you doubt that – Dental Pro 7 comes with a full unconditional, money-back guarantee.
So – if for any reason you feel this product hasn't lived up to your expectations – you get all your money back.
The guarantee means that your order is placed without any risk at all.

Visit the Dental Pro 7 website and discover all the facts and place your order by clicking here > > > Dental Pro 7 Website
Read More About Gum Disease > > > Gum Disease Facts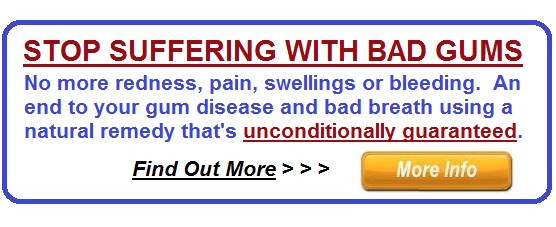 Whatever decision you make – I wish you the best of health.